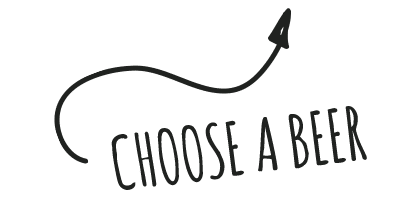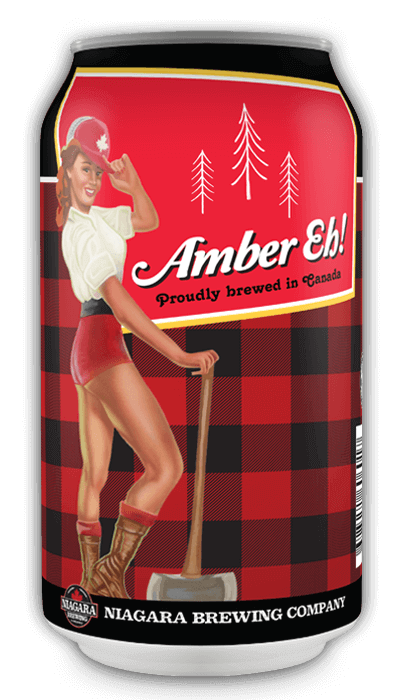 Amber Eh!
Amber is a vivacious Canuck with a love for the wild and this Amber Eh! Ale is our tribute to her and her fellow folk from the Great White North. With a blend of toasted grain, light caramel notes, and traditional North American hops, this tasty ale offers a flavour that's as versatile and alluring as its namesake.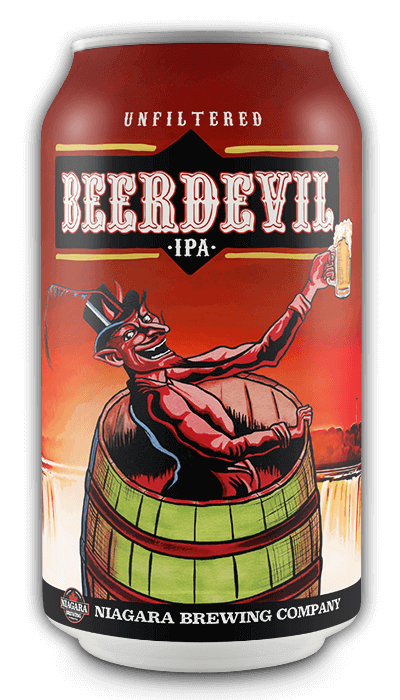 Beerdevil IPA
Since 1859 countless thrill seekers have taken on the thundering waters of Niagara Falls with devilish style. We've channeled this fearlessness into our Beerdevil IPA, which blends a high hop aroma and caramel-like, toasted malt flavour. It's bold and bracing like the daredevils it honours, proving that the risk is definitely worth the reward.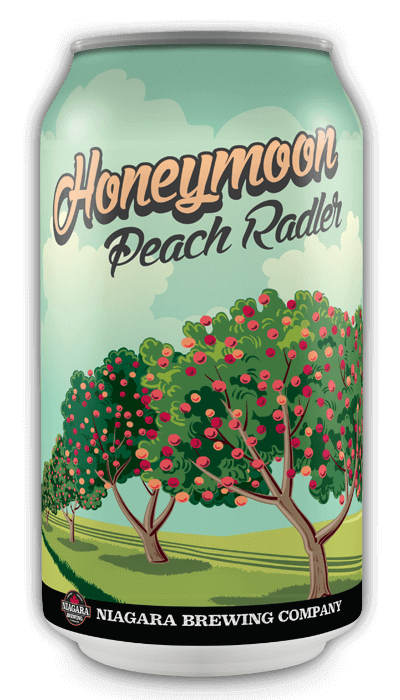 Honeymoon Peach Radler
Niagara Falls is known as "The Honeymoon Capital of the World" and this Honeymoon Peach Radler is crafted as a tribute to all of our newlywed visitors. With an airy malt sweetness, touch of ginger, and pleasant peach finish, you'll feel refreshed and more in love with every sip.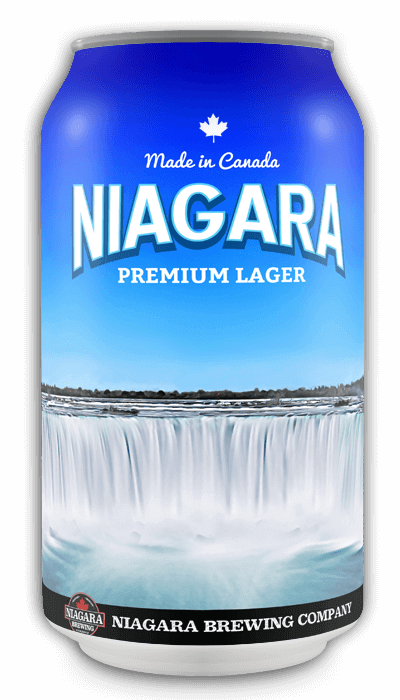 Niagara Premium Lager
Niagara Falls is celebrated for its natural beauty and force. Our Niagara Premium Lager has been crafted in honour of its awe-inspiring power. This thirst-quenching premium lager offers a clean-drinking, medium bodied brew. Distinguished by malt sweetness and a cascade of citrus flavours it's as impressive as the mighty Niagara itself.


Our Other Brews On Tap
Clifton Cream Ale
Honey-coloured with a rocky, moderate lasting white head. This classic American style uses lager yeast but is fermented at ale temperatures, resulting in a fermentation profile that is clean yet features hints of fruity esters. This beer is light and crisp where neither hop nor malt flavor dominates, but rather complement each other to produce a very well balanced beer. A fairly high level of carbonation makes for a refreshing and flavourful beer that is a perfect lawnmower beer for a hot summer day.
5.0% Alc. / 12 IBU
Blood Orange Sour
3.5% ALC. / 3 IBU
This beer is highly carbonated and very refreshing. It is characterized by a clean lactic sourness and complemented by blood orange. The malt flavour is slightly reminiscent of bread dough, and there is virtually no hop flavour or aroma. The first hints a consumer will notice is the orangey-pink colour, the blood orange flavour and aroma, and a kick of sourness.
Mo-Wheat-O
5.1% ALC. / 16 IBU
This hazy, honey-coloured American Wheat beer has thick, persistent head and a malt body, however, the star of this beer is the hops. Motueka (pronounced "moh-too-way-kah") is a hop variety from New Zealand that we've never used at NBC before. It brings a smooth bitterness and a refreshing, brilliant citrus and tropical fruit aroma. The flavor centers around complex lime and lime zest flavours, with a background that features pineapple and mint, reminiscent of a mojito.
Uncle Kyle's Rye Pale Ale
6.7% Alc. / 45 IBU
This hazy Rye Pale Ale is as big and bold as Uncle Kyle himself. The addition of Rye malt adds a spiciness that helps make the new world hop flavours and aromas really pop with notes of citrus, berry, melon and orange marmalade. Finishes with a smooth, crisp bitterness and a hint of cinnamon-like rye flavour.
Growlers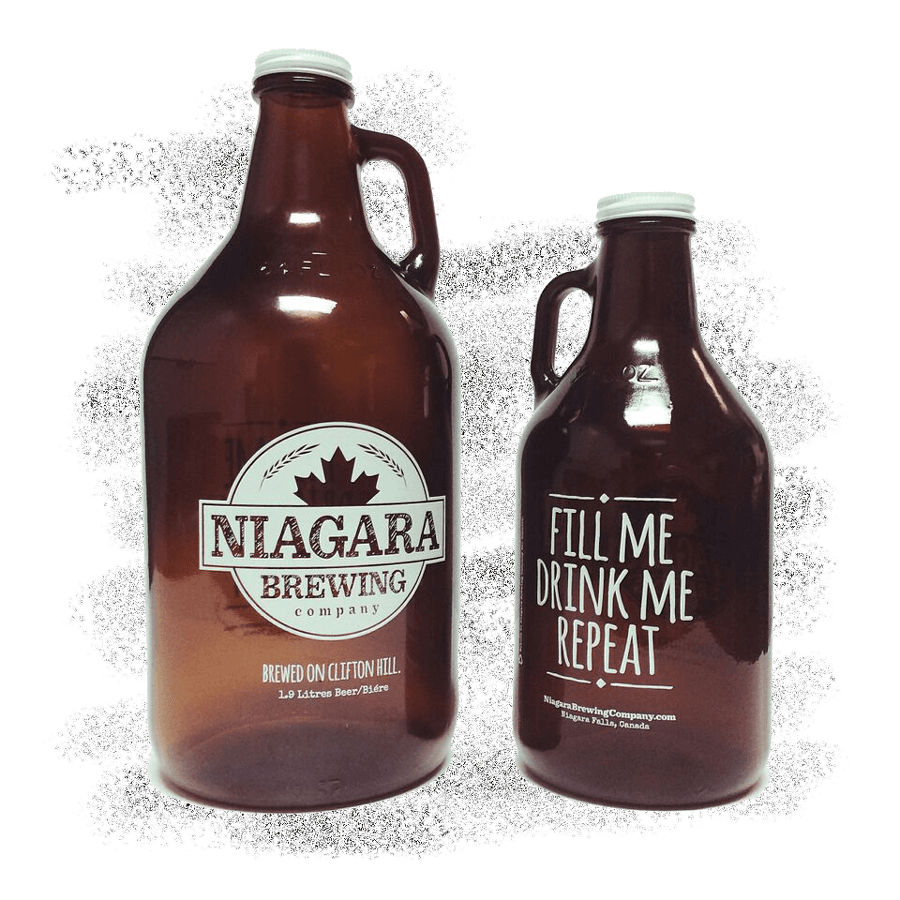 That's right! We're now offering growlers at our brewery retail store. Growlers are the perfect way to share some fresh local craft beer with friends! Our 1.89 L & 0.95 L growlers are reusable, eco-friendly beer vessels that are filled with the freshest Niagara Brewing Company beer. It's pretty simple, visit the brewery and grab a growler to take home and share, and then bring it back to the brewery for a refill.
Growlers are meant to be enjoyed fresh, each growler will have a fill date noted on the tag, and we recommend drinking your growler as soon as possible. Growlers have a shelf-life of 3 days once filled and once opened we recommend you drink within 1-2 days.
Growler Fill Hours:
We fill Growlers Daily in the Retail Store from Open til 11pm.
Remember, we are always open on Holidays when the Beer Store is Closed.
What's available?
We will feature a rotating selection of year-round, seasonal, and one-off beers available for growler fills.
Will you fill growlers from other brewers?
No, only Niagara Brewing Company Growlers!
So, come in buy one and we will fill it!
Bring your Growler back for a refill!
After you're done enjoying your beer, please rinse your growler with hot water and return it to the brewery. We can refill your growler for you, offer you a refund, or replace your growler.