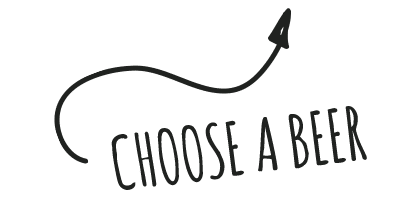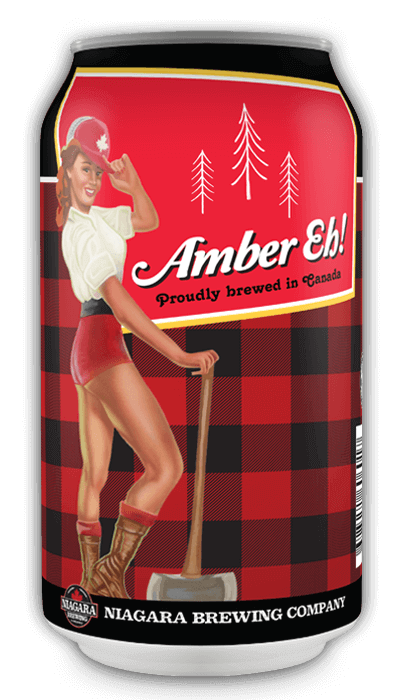 Amber Eh!
Amber is a vivacious Canuck with a love for the wild and this Amber Eh! Ale is our tribute to her and her fellow folk from the Great White North. With a blend of toasted grain, light caramel notes, and traditional North American hops, this tasty ale offers a flavour that's as versatile and alluring as its namesake.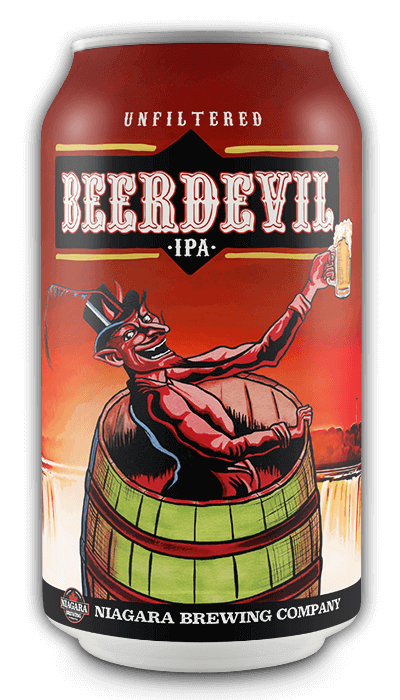 Beerdevil IPA
Since 1859 countless thrill seekers have taken on the thundering waters of Niagara Falls with devilish style. We've channeled this fearlessness into our Beerdevil IPA, which blends a high hop aroma and caramel-like, toasted malt flavour. It's bold and bracing like the daredevils it honours, proving that the risk is definitely worth the reward.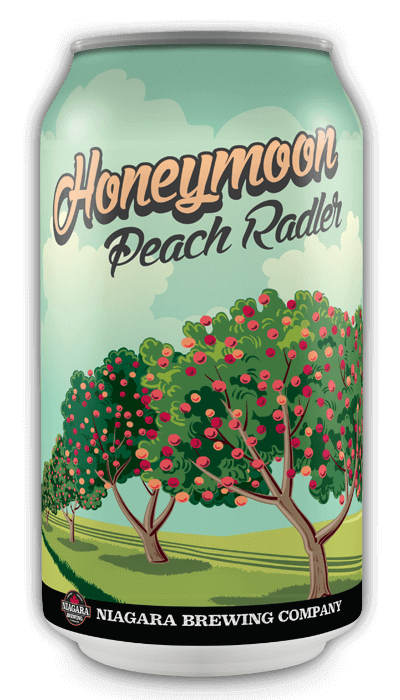 Honeymoon Peach Radler
Niagara Falls is known as "The Honeymoon Capital of the World" and this Honeymoon Peach Radler is crafted as a tribute to all of our newlywed visitors. With an airy malt sweetness, touch of ginger, and pleasant peach finish, you'll feel refreshed and more in love with every sip.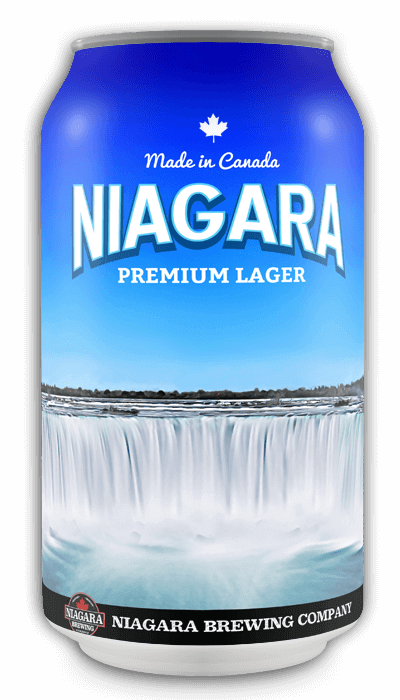 Niagara Premium Lager
Niagara Falls is celebrated for its natural beauty and force. Our Niagara Premium Lager has been crafted in honour of its awe-inspiring power. This thirst-quenching premium lager offers a clean-drinking, medium bodied brew. Distinguished by malt sweetness and a cascade of citrus flavours it's as impressive as the mighty Niagara itself.


Our Other Brews On Tap
Icewine Beer
9.7% Alc. / 1 IBU
Our Niagara Icewine Beer is a limited-edition brew that blends the sweet intensity of Niagara's liquid gold Icewine with the bubbly goodness of our award-winning Niagara Premium lager, and is something that both beer and wine lovers will love to sip this winter.
FuhGedda-Stout-It
5.8% Alc. / 20 IBU
Almost black with a persistent tan head, this milk stout combines notes of chocolate and coffee with roasted malt notes to create a complex flavor. Restrained hop bitterness gives way to a caramel/toffee sweetness, which is accentuated by a very full body and a silky smooth finish. The perfect brew for a cold winter's day.
note: contains a small amount of lactose (<1% by weight). For comparison, milk is 7-8% by weight
Red Irish Ale
4.7% Alc. / 21 IBU
Irish Red Ale is classically Irish. A prominent malt flavour is topped with strong caramel, biscuit and toffee highlights. It is a refreshing dark red studded with ruby highlights to achieve a balance that starts slightly sweet but finishes dry with a slight roast.
Marzen Lager
6.2% Alc. / 21 IBU
Chestnut-coloured with copper and ruby highlights, this German lager boasts an elegant malt flavor with a restrained hop bitterness that acts to balance the malt. Notes of toffee, biscuit, and bread crust intertwine to create a complex malt profile that starts out suggesting sweetness, but finishes moderately dry, encouraging another sip. A medium, creamy mouthfeel with a persistent, off-white head further accentuates the malt flavor.
Growlers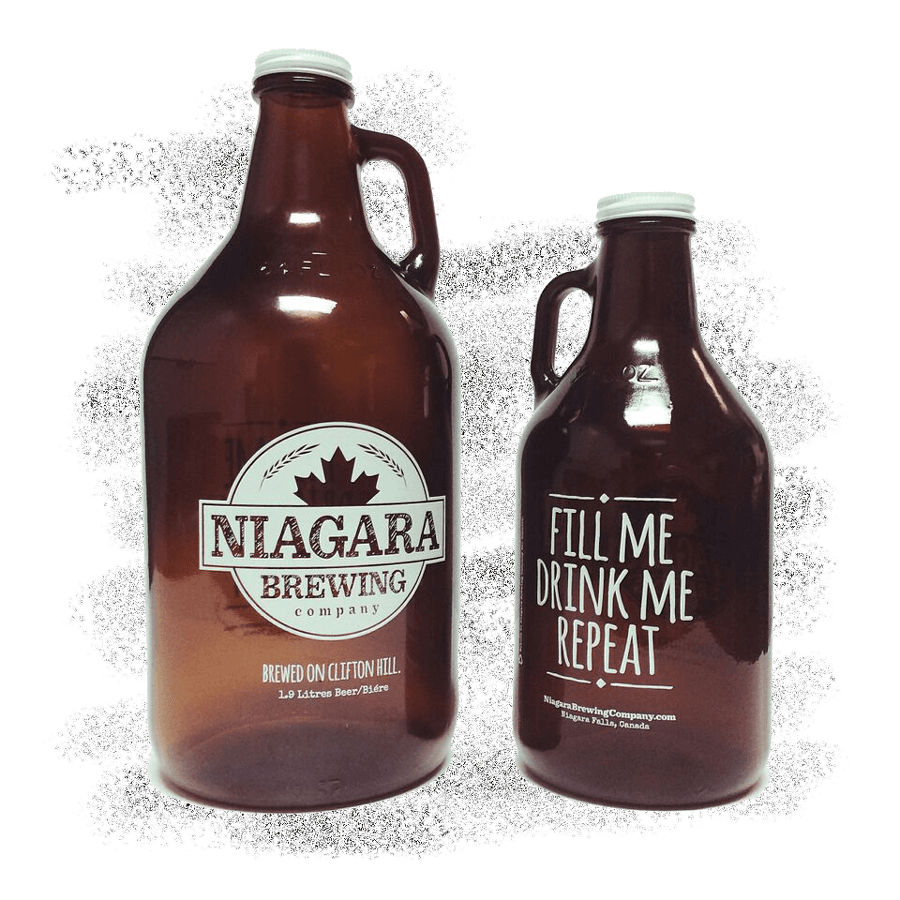 That's right! We're now offering growlers at our brewery retail store. Growlers are the perfect way to share some fresh local craft beer with friends! Our 1.89 L & 0.95 L growlers are reusable, eco-friendly beer vessels that are filled with the freshest Niagara Brewing Company beer. It's pretty simple, visit the brewery and grab a growler to take home and share, and then bring it back to the brewery for a refill.
Growlers are meant to be enjoyed fresh, each growler will have a fill date noted on the tag, and we recommend drinking your growler as soon as possible. Growlers have a shelf-life of 3 days once filled and once opened we recommend you drink within 1-2 days.
Growler Fill Hours:
We fill Growlers Daily in the Retail Store from Open til 11pm.
Remember, we are always open on Holidays when the Beer Store is Closed.
What's available?
We will feature a rotating selection of year-round, seasonal, and one-off beers available for growler fills.
Will you fill growlers from other brewers?
No, only Niagara Brewing Company Growlers!
So, come in buy one and we will fill it!
Bring your Growler back for a refill!
After you're done enjoying your beer, please rinse your growler with hot water and return it to the brewery. We can refill your growler for you, offer you a refund, or replace your growler.