One of our favourite summer activities here at Niagara Brewing Company is drinking cold beers out on the patio. And we've added a few new beers on our rotating taps that are perfect for sipping in the sunshine. Grab some friends and come by our brewery on Clifton Hill to taste our new Niagara craft beer.
Clockwork Berliner Weisse
3.5% Alc. / 3 IBU
A classic German sour beer with a twist, this beer is highly carbonated and very refreshing. It's characterized by a clean sourness and complemented by blood orange. The first thing people will notice about this beer is the orange-pink colour, blood orange flavour and aroma, and of course, the sourness.
Annie's English Ale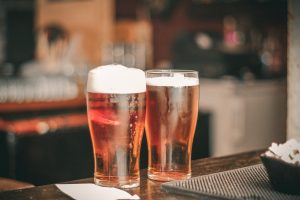 4.7% Alc. / 21 IBU
Our Annie's English Ale is a take on classic Irish-style red ale and appears dark red with ruby highlights. It features a prominent malt flavour, hints of caramel and biscuit, and strong toffee and floral hops notes that balance the malt body for a smooth and refreshing drinking experience.
Irish Red Ale is an essential part of most brewery lineups in Ireland, and we're very excited to offer our own version at Niagara Brewing Company this summer.
Other Brews
Also on our taps is a delicious Cream Ale that's 5% Alc, / 12 IBU, and our four signature brews: Niagara Premium Lager, Honeymoon Peach Radler, Beerdevil IPA, and Amber Eh! Ale. Come by and celebrate summer with some amazing Niagara craft beer, live music out on the patio, and delicious food!