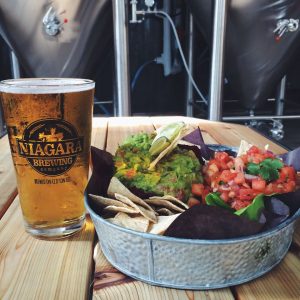 There are plenty of places where you can experience the non-stop excitement of Niagara Falls this spring and summer, but none of them compare to our brand new upper outdoor patio, which overlooks the bustling heart of the city's tourist district.
Our new upper patio is an amazing place to soak up the sun, enjoy some amazing Niagara Brewing Company craft beer, and take in the views and excitement of Clifton Hill and Niagara Falls. We've added seating all around our signature Niagara Brewing Company fermenter and processing tanks, transforming the unique outdoor space into one of the coolest places to drink beer and hang out with friends this summer.
We know how to celebrate patio season in style at Niagara Brewing Company, which is why we also offer a lower outdoor patio where you can experience live music in a relaxing atmosphere, right on Clifton Hill. Make the most of the beautiful warm weather in Niagara Falls by grabbing your friends and dropping by Niagara Brewing Company for incredible brews and views that you won't soon forget.