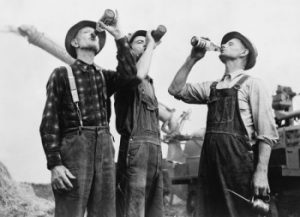 It's a well-known fact that Canadians love their beer. It's a part of our national identity and it's a part of our heritage. So let's take some time to explore a brief history of this great beverage in the Great White North.
History of Canadian Beer
Canada was first introduced to beer in the seventeenth century by European settlers who brought the process of brewing over to their new land. Canada was an ideal place for beer brewing because of its cold climates, which were needed for the brewing process before the dawn of refrigeration. The country's very first commercial brewery was built and opened in Montreal, Quebec in 1650 followed by a number of other commercial breweries like John Molson's in Montreal in 1786 and Alexander Keith's in Halifax in 1820. Commercial breweries prospered into the nineteenth century, until Canadian prohibition was introduced nationwide from 1918 to 1920.
When prohibition ended, commercial beer production in Canada resumed and eventually became dominated by a small handful of breweries like Molson and Labatt until the 1980s when craft breweries and craft beer started to popularize and grow.
Local Niagara Craft Beer
A strong and unique craft beer culture continues to develop across Ontario and many other parts of the country today, and Niagara Brewing Company is honoured to be a part of it by offering innovative craft beers inspired by one of the country's most famous landmarks- Niagara Falls. Brewed right down the road from the magnificent thundering waters, you can stop by our brewery to try a diverse range of beers like:
Niagara Premium Lager

Honeymoon Peach Radler

Beerdevil IPA

Amber Eh! Ale

Cataract Brown Ale

White Canoe Wheat

Additional seasonal varieties and rotating taps
Come and visit us for a refreshing pint of craft beer and let's raise a glass to the unique history of brewing in Canada!