Each of our signature beers has a name that pays tribute to the beautiful Niagara Falls and a fascinating story behind it. Our Beerdevil IPA honours the brave men and women who dared to take on the mighty Horseshoe Falls, most famously in barrels. The Honeymoon Peach Radler is a tribute to the city being lovingly referred to as the "Honeymoon Capital of the World". And the Amber Eh! Ale is a showcase of true Canadian pride. But there are also some interesting legends and stories behind a few of the beers on our rotating and seasonal taps, like the Hennepin Stout and White Canoe Wheat beers.
Hennepin Stout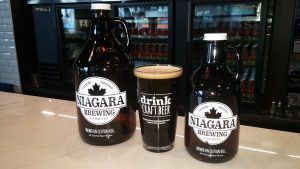 The Hennepin Stout is named after Father Louis Hennepin, a 17th century Roman Catholic priest and Franciscan missionary who explored North America and first told the world about Niagara Falls. In the first known printed description of Niagara Falls, Hennepin described it as "a vast and prodigious Cadence of Water which falls down after a surprising and astonishing manner" and our Hennepin Stout is brewed in honour of him and his amazing discovery.
White Canoe Wheat
Our White Canoe Wheat beer also has a fascinating story behind it and is named after a famous Niagara legend, which has many different variations. One version of the legend says that indigenous tribes had a custom of visiting Niagara Falls to offer sacrifices to the Spirit of the Falls, often in the form of a white birch bark canoe filled with flowers, fruits, and one young woman from the tribe. One year, the chief's daughter Lelawala was selected to be sent over the Falls, but her white canoe was caught on the way down by Heno, the god of thunder, who brought her to safety behind the Falls where she stayed and became known as the famous Maid of the Mist.
Niagara Falls Brewery on Clifton Hill
Niagara Falls is rich with history and perhaps one of the most unique and refreshing ways to experience it is by stopping by our brewery on Clifton Hill to try any one of our signature and seasonal beers. From the Hennepin Stout and White Canoe Wheat to the Beerdevil IPA and Niagara Premium Lager, each of our beers is sure to give you a true taste of Niagara and the unique history behind it.