Niagara Brewing Company is the perfect place to enjoy a summer's day, and the new addition to the craft brewery's taps suits patio weather to a tee. Clifton Cream Ale joins the impressive lineup on the rotating taps as a summer of flavour continues. With its honey-colored appearance, balanced taste, and lively characteristics, Clifton Cream Ale is poised to become a favorite among Niagara Falls craft beer aficionados and casual drinkers alike.
Tasting Notes: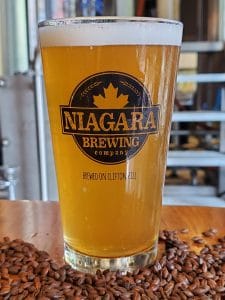 Clifton Cream Ale welcomes beer enthusiasts with its honey-colored appearance and a rocky, moderate-lasting white head. Inspired by classic American style, this ale is brewed using lager yeast but fermented at ale temperatures. The result is a clean fermentation profile with subtle hints of fruity esters.  In terms of taste, Clifton Cream Ale strikes a perfect balance between its light and crisp nature, and sits at 5.5% ALC and 20 IBU, making it immensely enjoyable. The beer doesn't overpower the palate with dominant hop or malt flavors; instead, they harmoniously complement each other. This balance contributes to the beer's overall well-rounded and approachable character.  With a fairly high level of carbonation, Clifton Cream Ale offers a refreshing and flavourful experience. It is the ideal choice for a hot summer day, making it the perfect lawnmower beer. Clifton Cream Ale's refreshing qualities will invigorate your senses.  While we think it is best enjoyed on one of our two patios, you can stop by a pick up a growler of this new craft brew to enjoy at home or purchase cans of our award-winning signature beers.
The Brewery Experience:
Niagara Brewing Company is not just about exceptional beers; it's an experience in itself. The craft brewery in Niagara Falls boasts a range of features that ensure visitors have a memorable time. Nestled in the heart of the Niagara Falls tourist district at Clifton Hill/Falls Avenue, Niagara Brewing Company is renowned for exceptional craft beers and a vibrant atmosphere. A highlight of the day are the Hoppy Hour specials, offering specials on select brews from 3pm – 4pm and 7pm – 8pm daily. This allows patrons to explore the diverse flavors while enjoying great value.
Live Music All Day, Every Day: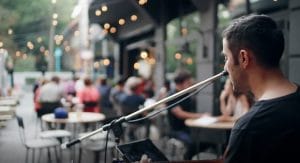 For those who appreciate the harmonious combination of music and beer, Niagara Brewing Company has something special to offer. The craft brewery hosts live music performances from open to close, creating an electrifying ambiance. From soulful tunes to foot-tapping melodies, the diverse range of musical acts from across the Niagara Region adds another layer of enjoyment to the already vibrant atmosphere.
Lively Patios:
Niagara Brewing Company takes full advantage of its beautiful location steps from the majestic Falls, providing inviting patios for patrons to soak in the breathtaking surroundings. These lively outdoor spaces offer the perfect setting to sip on a cold Clifton Cream Ale while basking in the warm sunshine or under a blanket of stars as night falls. Whether you're enjoying the company of friends or relishing a quiet moment of solitude, the lively patios at Niagara Brewing Company ensure a memorable experience.
Niagara Brewing Company's latest addition, Clifton Cream Ale, showcases a dedication to crafting exceptional beers while providing an unforgettable experience for visitors. With active nightlife, outdoor patios, live music, and Hoppy Hour specials, Niagara Brewing Company offers the perfect backdrop to enjoy refreshing craft beer in Niagara Falls.