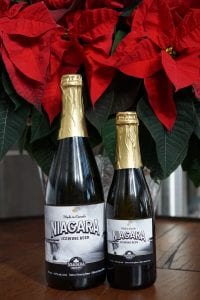 Our Niagara Icewine Beer will be hitting the taps once again, just in time for the holidays!
This unique brew blends the complex flavours of Icewine with the bubbly goodness of beer and is a perfect drink for the holiday season. It's a brew that will appeal to both beer and wine lovers, and can be enjoyed on tap or purchased at the brewery in 375ml and 750 ml bottles, which make for great holiday gifts.
Canadian Icewine is famous around the world, and a large majority of it is produced right here in the Niagara Peninsula. Icewine is created from grapes that have frozen while still on the vine and every year around harvest time, the Niagara Region celebrates the creation of this incredible liquid gold with special events, festivals, and products.
Experience Niagara Icewine like never before this holiday season and stop by Niagara Brewing Company on Clifton Hill for a taste of this limited edition winter brew!