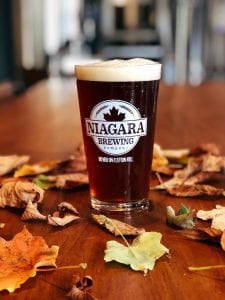 We've added a Pumpkin Spice Ale to our rotating taps just in time for autumn and you won't want to miss it! This new brew has a spicy aroma with notes of cinnamon, nutmeg, and allspice, which give way to a rich and delicious pumpkin flavour.
Whether you try it in a pint or a flight, this ale is a great way to get into the spirit of autumn and is one of our favourite things about the season – along with the incredible foliage and cozy sweater weather, of course.
So head on over to our brewery on Clifton Hill to check it out and try some of our other great brews on tap, including:
Clockwork Berliner Weisse
Hennepin Stout
Irish Red Ale
Niagara Premium Lager
Beerdevil IPA
Honeymoon Peach Radler
Amber Eh! Ale
We also currently offer broasted (broiled and roasted) chicken fingers and wings on our newly-updated kitchen menu, which pair perfectly with our beer and make for some tasty eating. So come by the brewery to taste all of our new offerings and raise a glass to a spectacular new season in Niagara!