Discover the most innovative and delicious craft beers from across Ontario by attending some of these great upcoming craft beer events:
This year's Toronto Winter Brewfest is being held on March 24th & 25th at the Enercare Centre at Exhibition Place. Craft beer drinkers are invited to come and sample more than 150 craft beers from throughout Ontario and Quebec, and taste amazing food from a number of Toronto's finest food trucks. Buy your tickets in advance for the Friday or Saturday sessions and get ready to taste a variety of innovative brews from some of Canada's top brewers.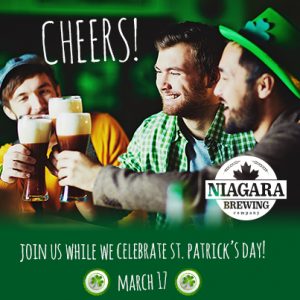 St. Patrick's Day is coming up on Friday March 17th and if you're looking for a fun and lively celebration full of beer, food, and good company then make sure to stop by Niagara Brewing Company on Clifton Hill. You can sample delicious and unique brews from the rotating taps like the Flapjack Maple Wheat Beer, Hennepin Stout, or Icewine Beer, pair your pints with amazing food from the brewery's kitchen, and listen to live music with The Danny's that will get you right into the Irish spirit.
And mark your calendars this spring, because National Beer Day is coming up on April 7th and National Homebrew Day on May 6th. Celebrate by sitting back with a cold pint of your favourite beer, visiting your favourite local craft brewery, or by brewing a batch of your very own beer at home.
Another exciting event coming up this spring for Ontario craft brewers is the annual Ontario Brewing Awards, which celebrate and recognize the finest craft beers from all around the province. Niagara Brewing Company's Niagara Premium Lager won silver in the Craft Lager category in 2016 and this year on April 27th, a new list of winners will be announced across 40 different categories.
It's an exciting time for craft brewers across Ontario and there is no shortage of events and festivals that beer lovers can attend to connect with the best that the province has to offer. Check out these events and more to get a true taste of Ontario craft beer this spring.