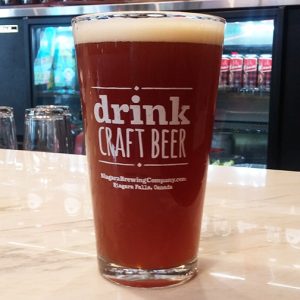 Nothing says spring in Ontario quite like the maple syrup harvest during which the province's maple trees are tapped for the delicious syrup that's created from starch that's been stored in the trees during winter. Maple syrup plays an important role in Canadian cuisine and culture and at Niagara Brewing Company we're paying homage to this amazing creation with our limited-edition Flapjack Maple Wheat Beer.
Our Flapjack Maple Wheat Beer is now available on our rotating taps and you can choose to stop by the brewery and enjoy a cold pint of it with some food and live entertainment or come and fill up a growler to take with you and enjoy at home with friends and family.
The Flapjack Maple Wheat Beer has a distinct maple aroma with a woody malt flavour and a sweet maple finish. It has an ABV of 6% and an IBU of 13, making it a smooth and enjoyable spring beer. Happy hour at the brewery is everyday from 3-4pm and 7-8pm, so stop by and try this limited-time maple beer along with our other seasonal brews like our one-of-a-kind Icewine Beer and Pumpkin Pie Spiced Ale.
Raise a glass and celebrate the wonder of spring (and syrup) with us at Niagara Brewing Company!