Always Pouring, Never Boring – we are excited to announce that our second location opens today!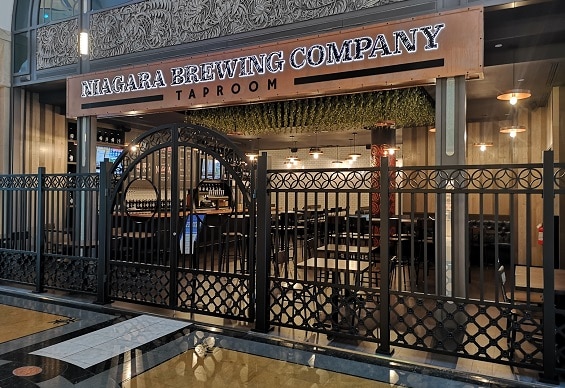 Niagara Brewing Company Taproom features all of the things you've come to love about our location at Falls Avenue and Clifton Hill, and offers an equally exciting location; Fallsview Casino Resort!  You will find the Taproom in the Galleria of Canada's largest gaming resort.
The new location is an extension of our popular Niagara Falls craft brewery experience.  The 65-seat space offers our award-winning signature craft beers, and rotating taps that highlight seasonal flavours.  Enthusiasts will be pleased to know that craft beer flights and our most sought-after artisanal snacks and bites from the Brewery dining menu will be available at the new location.  We have also added an incredible feature to the kitchen menu which is available exclusively at the Casino. Visitors will find three handcrafted, two-patty smash burgers as the featured items.
As sharing a newly discovered craft beer with friends is part of the experience, Niagara Brewing Company Taproom will have craft can gift packs available for purchase to take home with an order from the food menu.
For those not familiar with Fallsview Casino Resort, it is located in the Fallsview Tourist District about 1km from our first location and is home to more than 200,000 sq ft of gaming action.  Our new location means Niagara Brewing Company Taproom is steps from more than 3,500 slot machines, 130 gaming tables, and two live entertainment venues making it a great choice for a night out with friends, and before/after a show.
Stop in at Niagara Brewing Company Taproom for delicious cold craft beer during your next visit and check out our new location!