Our newest craft beer at Niagara Brewing Company captures the best of summer in a glass.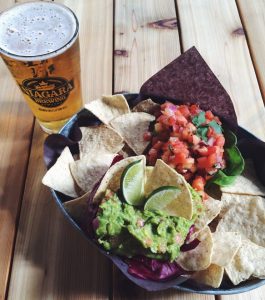 Our Niagara American Pale Ale is in the middle of our award-winning craft beer lineup in terms of alcohol content, but the flavours, active carbonation and dry finish make it an easy option when relaxing on the patio on a hot summer day (and pairs well with our handmade guac and tortilla chips!)
A light straw colour with a white, rocky head this beer is the visual epitome of summer and makes for a beautiful sight shining in the sunlight at our Niagara Falls craft brewery.  Our American Pale Ale features a strong aroma of citrus (especially grapefruit) and features tropical fruit undertones and a slight hint of berry.  Hop forward, this pale ale has a grainy malt foundation with hints of honey that support the explosion of hop flavor that comes from massive late additions of Amarillo and Cascade hops.
American Pale Ale is light-bodied with a crisp, dry finish that is very refreshing.
Stop in at our craft brewery in Niagara Falls and enjoy our new American Pale Ale, available now on our rotating tops, and stay for live music all day, and hoppy hour specials!