Summer is coming to a close and we're serving up a number of awesome brews on our rotating taps that are perfect for celebrating the end of a great season.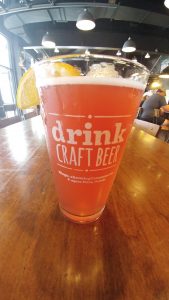 Our Clockwork Berliner Weisse is currently on tap and is an exclusive beer that's brewed in the old German Berliner Weisse tradition. This type of beer is usually cloudy and a little bit sour, typically containing around 3% alcohol. Our Berliner Weisse is a little bit stronger at 3.5% and has an IBU of 4, making it a light and refreshing beer to enjoy in the summer.
Berliner Weisse has a rich history in Germany and at one point was the most popular beer in Berlin. An early style of Berliner Weisse was being brewed by a Berlin doctor in the 1600s, which he'd adapted from a similar beer brewed in Hamburg. The beer then spread to Prussia and eventually the rest of the world. Berliner Weisse reached the height of its popularity in the 19th century, but it's still brewed and enjoyed all around the world today, including at Niagara Brewing Company in beautiful Niagara Falls.
Another great beer on our rotating taps is the Marzen 150, which is a special brew that's made in honour of this summer's Canada's 150th celebrations. Marzen means "March" in German and is a type of beer that originated in Bavaria around the 16th century. Our medium bodied Marzen 150 contains 6.2% alcohol and an IBU of 21. Traditionally, Marzen beers are brewed in the month of March and have a nice malty taste and clean finish.
Stop by our brewery on Clifton Hill to try the Clockwork Berliner Weisse, Marzen 150, and other delicious and innovative brews, along with our signature beers like the Niagara Premium Lager and Honeymoon Peach Lager. Come and visit us this August and raise your glass to a great summer with great beer.