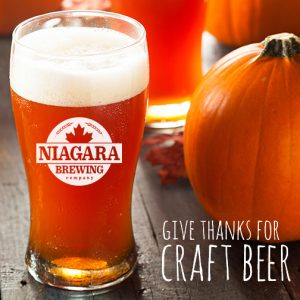 Fall is an exciting time in Niagara Falls as the crisp weather arrives, trees change colour, and people look forward to celebrating the upcoming holidays. And here at Niagara Brewing Company we like to celebrate and make the most of this new season by offering innovative new brews and exciting events that will make any visit to Niagara Falls into something fun and special.
Every year, millions of people gather in Munich, Germany to celebrate the best of Bavarian culture and beer at the world-famous Oktoberfest festival. But you won't have to travel to Munich to get in on the fun as we'll be honouring this annual beer-centric tradition by hosting our very own Oktoberfest celebration on Saturday September 30th starting at 7pm. Come and join in the festivities at our brewery on Clifton Hill and enjoy some great beer, food, and live music from The Happy Wanderers.
And in honour of the fall season we also have our delicious Pumpkin Spiced Ale back on the rotating taps, which is a medium-bodied brew with spices that give way to a rich pumpkin flavour and notes of cinnamon and nutmeg. It has an irresistible creamy finish with 5.1% alcohol and 6 IBU. Nothing tastes more like fall than this pumpkin spiced brew, and if you can't make it to our Oktoberfest celebration to try it stop by our brewery to enjoy a pint during our daily Hoppy Hour.
We have just the beer you need to start making the most of fall, so stop by and see us today!