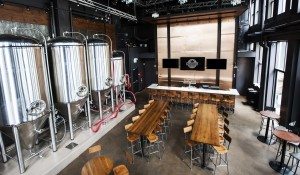 We've just released a new American Pale Ale on our rotating taps and we're pretty excited about it! This brand new brew is a crystal clear pale ale with 5.5% alc. and 39 IBU. A bready malt body supports a complex hop profile, and a citrus taste up front gives way to tropical hints of pineapple, mango, papaya, and berry. American Pale Ales typically feature a great balance of malt and hops, and our very own version is both refreshing and delicious.
Stop by the brewery to try it today or visit us for one of these awesome upcoming events:
St. Patrick's Day Party
On Saturday March 17th, we're hosting a St. Patrick's Day celebration at the brewery, featuring great beer, live music, and delicious Irish stew! So grab your green gear and a couple of friends, and get ready for an exciting St. Patty's Day celebration in the heart of Niagara Falls.
Hoppy Hour & Live Music
We're offering daily Hoppy Hour specials, including $4 beer specials on selected brews from 3-4pm, 7-8pm, and 11pm-midnight. And you can also catch daily live entertainment from amazing local musicians. Just check out our Facebook page for performers and times!
Exciting things are always happening at Niagara Brewing Company, and for updates on all of our upcoming events and specials, check out https://niagarabrewingcompany.com/events/. Cheers!