Spring is finally here and in order to wipe away those winter blues and make the most of the coming months we've compiled a list of 3 of the best things to do this spring in Niagara Falls, including hiking, sightseeing, and of course, drinking beer.
Sip Your Way into Spring at Niagara Brewing Company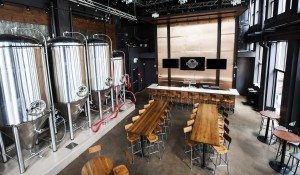 Here at Niagara Brewing Company we're always switching up our taps, and we've just added a bunch of new brews that we're pretty excited about sharing. The current lineup on our rotating taps is Hennepin Stout, Cream Ale, American Pale Ale, and the limited-edition Niagara Icewine Beer. Each one is a great choice for spring sipping and will leave you feeling refreshed.
Our Honeymoon Peach Radler is also a great beer to drink this spring with its airy malt sweetness, touch of ginger, and pleasant peach finish. And make sure to stop by the brewery for daily Hoppy Hour drink specials from 3-4pm, 7-8pm, and 11pm-midnight, and great live music from local Niagara musicians.
Take a Boat Ride to the Falls with Hornblower Niagara Cruises
Hornblower Niagara Cruises – one of Niagara Falls' most iconic attractions – is reopening in early April (weather permitting) for another season of boat rides that will take you up close and into the basin of the Canadian Horseshoe Falls. You can choose between the classic Voyage to the Falls Boat Tour, Voyage to the Falls Evening Boat Tour, Falls Illumination Cruise, or Falls Fireworks Cruise, and discover the true power and beauty of Niagara Falls from the waters below.
Walk and Hike on Niagara's Best Trails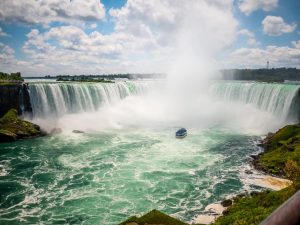 The Niagara Region is home to a number of amazing walking and hiking trails that wind through pristine forests and lead to stunning lookout points. The more than 890km Bruce Trail – the country's oldest and longest marked hiking trail – begins in Queenston and follows the edge of the Niagara Escarpment, offering a truly incredible hiking experience.
And the Niagara Glen, located deep in the Niagara Gorge, offers 4km of rugged walking paths that travel through a pristine pocket of Carolinian Forest. It also leads you to beautiful areas that overlook the Niagara River Whirlpool and rapids and is definitely worth a visit while visiting Niagara Falls this spring.
Sip and sightsee your way around Niagara Falls this spring and start planning your next getaway today!