We are committed to brewing beer of exceptional taste and quality. We're relentless in the pursuit of developing and perfecting new tastes but also know that sometimes reaching into the vault to bring back a favourite is just as important.
We are always excited for a new season and use it as a new opportunity to create Craft Beers that highlight the season's flavours for our rotating taps. For fall, we incorporated warmth through cinnamon, nutmeg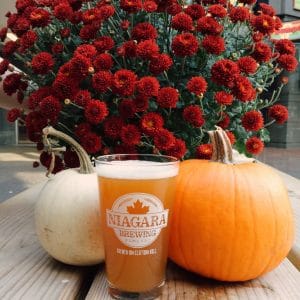 and the highly anticipated pumpkin. We introduced these notes in our new fall lineup which features our newest craft beer; Nigel's Pumpkin Patch Ale.  This festive ale echoes the taste of freshly roasted pumpkin, pie crust, spices, with a decadent hint of whipped cream at the end.  We've also refreshed our rotating taps with Niagara Irish Red Ale, Raspberry π Sour and brought back a favourite: our Marzen Lager.
Jump into spirit at our Brewery this Fall Season, admire the beautiful changing colours paired with a delicious seasonal Craft Beer.