Put a fun twist on the traditional holiday party this year by hosting one at Niagara Brewing Company!
Our expansive, loft-like 3,000 sq. ft. space, can be set up in numerous different arrangements and has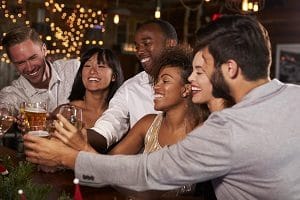 the capacity to host up to 210 people, for a one-of-a-kind event.   Toast the holidays with co-workers and friends in a hip and trendy atmosphere and delicious craft beer.  The lineup on our rotating taps is kept fresh with seasonal flavours; and in early December we will once again have our celebrated Icewine Beer back on tap and in store for purchase. Our seasonal flavours are in addition to our signature brews that are just too good to let go. We have our award winner Niagara Premium Lager, Beerdevil IPA, Honeymoon Peach Radler and our Amber Eh!
A great holiday party requires great food, and our kitchen is ready to offer incredible entrees, appetizers and snacks to your party guests, including warm pretzels, delicious chicken wings and our meat & cheese combo board which is perfect for sharing.
Our brewery is located at the corner of Clifton Hill and Falls Avenue, right in the heart of Niagara Falls' tourist district and is just a short walk from the incredible Niagara Falls. With 3,000 sq. ft. of space, an on-site beer and retail store, trendy atmosphere, and locally inspired food menu, Niagara Brewing Company is the perfect place to host an unforgettable party this holiday season.
Click Here, for more information, or to book a group party.