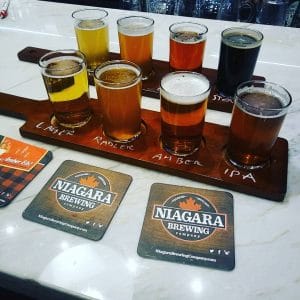 Here at Niagara Brewing Company, we can't think of a better way to usher in a new season than by introducing a brand new beer on tap. We're very pleased to now offer our Marzen Lager ABV 6.2% IBU 21, which is a dark European lager that features a bold malt sweetness and hints of delicious caramel. The taste finishes dry with a hint of noble hops, which makes it a perfect dark beer to enjoy this winter.
As the cold weather rolls in it's time to put away the light beers that kept us refreshed on the patio in summer and replace them with stouts, ales, and porters that will keep us warm when the snow hits. But if you're unsure of what dark beer will best suit your tastes (or even what the difference is between them), here is a little rundown to help you out:
Porters are well-hopped dark beers made from malted barley that are generally considered to have a slightly weaker taste than stouts. The name is said to come from the street and river porters who drank this type of beer in 18th century London.
Stouts are very similar to porters, however they are made from roasted malt or roasted barley rather than malted barley. The strongest porters used to be referred to as stouts, but today many brewers acknowledge that the difference between them goes beyond just strong taste.
Dark Ales and Lagers are typically fermented at a warm temperature and often offer a sweeter, full-bodied taste.
Stop by the brewery any day of the week to try out our brand new Marzen Lager, Hennepin Stout, Amber Eh! Ale, or any of our other delicious brews, and raise a glass to wonderful winter!