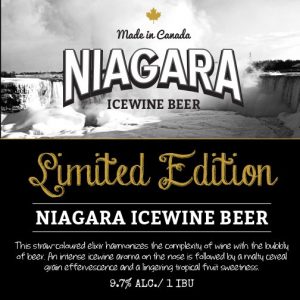 The Niagara Peninsula is one of the largest wine-producing regions in Canada and is perhaps most famous for its production of icewine, which can only be produced when grapes freeze on the vine. But because we're much more into the beer-making business here at the brewery, we've decided to pay homage to Niagara's sweet and delicious liquid gold in our own special way by creating a limited-edition Niagara Icewine Beer.
Combining the complex tastes of wine with bubbly beer, our Niagara Icewine Beer is a one-of-a-kind brew that both beer and wine lovers are sure to love.
The Niagara Icewine Beer offers an intense icewine aroma on the nose, which is followed up by a malty cereal grain effervescence and a lingering tropical fruit sweetness. It will only be available at the brewery for a limited-time, so make sure to drop by and give it a try before it's gone.
And while you're in the area, make sure to stop by one of Niagara's many award-winning wineries like Inniskillin or Pillitteri Estates to get a taste of the region's world-famous dessert wine. You can also attend one of Niagara's many icewine events and festivals like the Niagara Icewine Festival at Scotiabank Convention Centre or the elegant Xerox Icewine Gala at Fallsview Casino Resort.
A visit to Niagara Falls in wintertime just isn't complete without a sweet sample of delicious icewine, so start planning your getaway today and get sipping.