We are excited to announce that Niagara Brewing Company has received a 2020 TripAdvisor Travelers' Choice Award! Travelers from all over the world that have visited us have reviewed our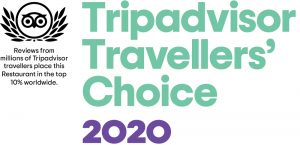 Brewery on TripAdvisor and have deemed it to be in the top 10% worldwide.  This recognition is significant milestone as TripAdvisor is the World's Largest online travel community.
Since opening our doors in June 2015, our brewers have been committed to brewing and developing beers that proudly represent both Canada's brewing heritage and today's innovative craft beer industry. We specialize in offering a wide variety of beer styles creating award-winning craft brews such as our Radler, IPA, Premium Lager, and Icewine in the process.
To complement our brews, we offer a food menu in our brewery with eats that can be perfectly paired with your favourite craft beer. Whether it is saucy wings, chicken sandwiches or meat & cheese boards, it all can go hand-in-hand. Situated on the corner of Clifton Hill and Falls Avenue, and only 200 meters from the Falls, we are in a prime location which puts visitors to Niagara Falls in the heart of the tourist district.
Receiving the TripAdvisor Travelers' Choice award acknowledges the effort and work that our brewers and staff contribute daily. We are proud of this accomplishment and will continue to deliver the best Craft Beers to make the Niagara Falls craft experience memorable and noteworthy.
Visit us soon and enjoy our rotating taps, kitchen menu and live music!