All dad jokes aside, a refreshing favourite returns to our Niagara Falls craft brewery.  Just in time for summer days and nights on the patio, our extremely popular Blood Orange Sour is back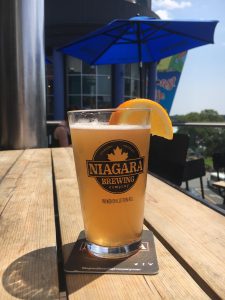 on our rotating taps.
This classic German sour beer has a twist. It's highly carbonated and very refreshing making it a great choice for summer.  Our Blood Orange Sour is distinct with an orangey-pink colour, with bright notes of blood orange flavour and aroma pulling through from the extract which is added after fermentation.
To achieve the level of sourness our brewmasters were aiming for, a "kettle souring" process was built into the recipe which sees lactobacillus introduced to unfermented beer to produce lactic acid (our souring agent).
Blood Orange Sour is just one of the delicious craft brews available right now at Niagara Brewing Company. In addition to our signature beers including our award-winning Niagara Premium Lager, Beerdevil IPA, Irish Red Ale, our rotating taps currently feature:
-Amber Eh!
-Clifton Cream Ale
-Ukraine Pilsner
Stop in for a cold beer, enjoy Hoppy hour beer specials, snacks & sliders and listen to some of Niagara's most talented musicians with free live music all day, every day!