Two of our most popular craft beers are returning for a limited time!  Our goal of always providing an exciting variety on our rotating taps continues as we head into summer.  We are re-introducing Clifton Cream Ale and Amber EH!
Clifton Cream Ale – 5% ALC. / 12 IBU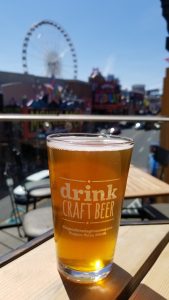 Brewed with a perfect summer's day in mind, we think Niagara Brewing Company Clifton Cream Ale is best enjoyed on a patio-and we have two!  The newest addition to our rotating taps is light and crisp – neither malt nor hop dominates, instead they complement each other.  A well-balanced, honey-coloured brew, Clifton's high level of carbonation results in a clean and refreshing beer that is ideal for summer!
Amber EH! – 5.0% ALC. / 28 IBU
Amber is a vivacious Canuck with a love for the wild and this Amber Eh! Ale is our tribute to her and her fellow folk from the Great White North. With a blend of toasted grain, light caramel notes, and traditional North American hops, this tasty ale offers flavour that is versatile and alluring.
There is nothing better than a beautiful patio, great friends, live music and cold beers!  Stop in day or night and take a seat on one of our two outdoor patios.  We have live music daily from 12:00pm-12:00am and daily hoppy hour specials for an experience that is always pouring, never boring!
We love to see how you are enjoying our brews, tag us on Instagram @niagarabrewingcompany or #NiagaraBrew to keep us in the loop!