Our popular Niagara Icewine Beer is brewed only once a year, and will be returning to our taps and retail store just in time for the Holidays.  The complex brew will be available the first week of December.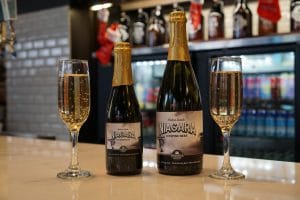 The recipe features our award-winning Niagara Premium lager blended with the sweet intensity of Niagara's liquid gold – Icewine.  The elegant and sweet composition of Icewine blends perfectly with the carbonation of our beer to produce a drink that reflects the joyous nature of the season.  The Niagara Region is Canada's largest producer of Icewine, which is a sweet dessert wine, and the result of grapes being left on the vine to freeze before processing.  The yield is tremendously small making icewine a treat and worth celebrating during the winter harvest.
This seasonal craft beer will be available on tap, and can also be purchased at the Brewery in 375ml and 750ml bottles which are perfect for gifting.
Stop by Niagara Brewing Company to try our Icewine Beer!