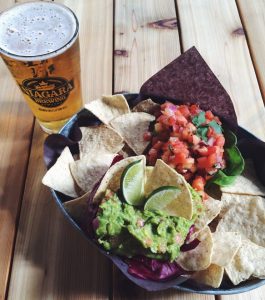 From bits and bites that are perfect for snacking to more filling eats made from some of the most appetizing local ingredients, our kitchen menu is the place to find awesome and affordable food to pair with our award-winning craft beer, just steps away from Niagara Falls.
Our bits and bites selections are great for sharing with friends and include a Warm Soft Pretzel Duo featuring our special Beerdevil IPA cheese sauce, Tortilla Chips & Guac served with homemade pico de gallo, an Artisan Cheese Board with delicious selections like mountain oak gold cheddar and devil's rock blue cheese, and a Niagara Charcuterie Board that showcases some of the best meat and vegetables from the region like pingue prosciutto, soppressata, and raw & pickled vegetables with a sage white bean spread.
And if you're in the market for a light meal to enjoy with your craft beer, we also offer a bunch of awesome eats like Sausage Rabe with garlic fried rapini and melted provolone cheese on an onion bun, a Homemade Meatball smothered in our signature marinara sauce and accented by baby arugula, Pesto Veal Parmigiana served with roasted red peppers and a 4-bean salad, a Mushroom Chicken Melt topped with swiss cheese and our signature Amber Eh! Infused aioli, and a Slider Trio that includes roasted red pepper & eggplant, escabeche of Canadian haddock, and seared beef meatball varieties.
Satisfy your appetite for refreshing beer and delicious food by stopping by our brewery on Clifton Hill for perfectly paired sips and snacks that will definitely make for a memorable summer hangout.