The best summer days are often spent out in the sun with friends and our awesome growler and taps program makes it easy to stay refreshed wherever you may find yourself this season!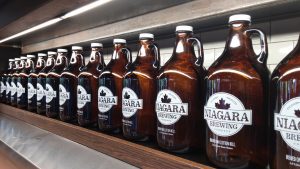 Our growler program is perfect for all of those craft beer lovers out there who want to take their favourite Niagara Brewing Company beer home with them, fresh from the tap and ready for drinking. Stop by our brewery retail store and choose a 1.89L or 0.95L reusable growler and one of our beers to fill it with. You can choose from a rotating selection of limited-time, seasonal beers like the Hennepin Stout, Cream Ale, Lucky Penny Lager and White Canoe Wheat, or choose one of our four signature brews like the award-winning Niagara Premium Lager or Beerdevil IPA.
And for your convenience, you can buy and refill your Niagara Brewing Company growlers anytime that our retail store is open (we're even open on holidays!) Once filled, we recommend drinking the growler beer within 1-2 days as it has a shelf life of 3 days and tastes best when it's fresh. And the best part is, when it's all done you can come back to the brewery and have it refilled, refunded, or replaced. Just rinse it with hot water, bring it to our retail store, and we'll take care of the rest.
We have some amazing and unique brews currently on tap and are always coming up with more, so why not grab a growler, fill it up, and start trying them out with friends. Whether you're hanging out by the pool, lounging at the beach, or relaxing out on the patio, we have no doubt that a growler full of refreshing Niagara Brewing Company beer will be a welcome addition to any gathering.