Here at Niagara Brewing Company, our rotating taps change along with the seasons, and this winter we have a number of awesome brews that are available to try at our brewery for a limited time. So stop by to try them today and raise your glass to a great winter in Niagara Falls!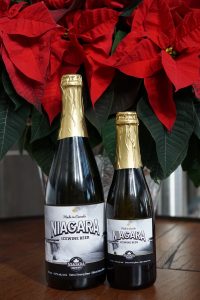 Niagara Icewine Beer
Our Niagara Icewine Beer is one of our newest brews, which pays homage to Ontario craft beer and Niagara's world famous Icewine. This brew is 9.7% Alc.  and is available on tap and to buy in 375ml and 750ml bottles. Wine and beer lovers alike will love this small batch limited-edition brew, so stop by to get a taste of what happens when you combine the sweet and complex flavours of ice wine with the bubbly goodness of craft beer.
Hennepin Stout
Louis Hennepin was a 17th century priest, missionary, and famous explorer of North America's interior, bringing Niagara Falls to the world's attention by publishing a book about the now-famous waterfalls. There have been cities, streets, parks, islands, and schools named after him, and now, we're adding beer to that list. Our Hennepin Stout is 4.3% Alc. and is a traditional Irish Dry Stout that is creamy and lightly carbonated, and will warm you right up this winter.
Marzen & Pumpkin Spiced Ale, Marzen & Honey Wheat
Our Pumpkin Spiced Ale is another great seasonal beer, which is a medium to full-bodied brew that tastes just like pumpkin pie in a glass. It is 5.1% Alc. and features a spicy aroma, notes of cinnamon, nutmeg, and allspice, and has a rich and creamy finish.
NBC Signature Brews
Lastly, you can always try our four awesome signature brews, which include the Niagara Premium Lager, Beerdevil IPA, Amber Eh! Ale, and Honeymoon Peach Radler. Each one is brewed lovingly in Niagara Falls using locally-sourced ingredients, and is an innovative and delicious craft beer unlike anything you've tasted before.