The Niagara Falls Music Live series is coming to Niagara Brewing Company!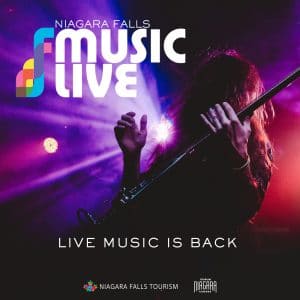 In celebration of Canadian Music Week, and on the heels of the success of the inaugural event in December, a three-day event will take place on June 9, 10, 11, 2022.
The spring edition will feature more than 50 live shows, in 20 venues around Niagara Falls including our Craft Brewery.  Join us for live music from 12:00pm-12:00am on each of the series dates. Niagara Brewing Company live music is Free admission and makes for an exciting Niagara Falls getaway for music and craft beer lovers.
Music Live once again features both ticketed and non-ticketed shows, and is an exciting mix of concerts and intimate performances across musical genres.  From rock to jazz, Niagara Falls Music Live encourages visitors to indulge in live music from some of Canada's most talented musicians in the newly designated Music City.  The series will close with a headlining show at the Niagara Falls Convention Centre featuring Big Wreck with Special Guests Texas King.
Join us for delicious craft beers, a lively patio, hoppy hour beer specials and live music as we kick off the summer in Niagara Falls!