The perfect end to a summer day can be found at Niagara Brewing Company.  Enjoy live music from some of the best musicians in Niagara from 12 noon to midnight, and two of the best patios in Niagara Falls.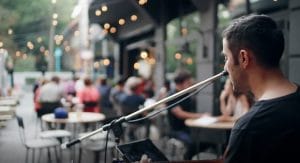 Add deliciously crafted cold beer and a menu of kitchen favourites that are ideal for sharing and you have a winning combination for a day well spent.
As the sun sets, revealing starry skies, gather friends for in impromptu session of flavour and fun.
What's On the Rotating Taps?
Scotch Ale – Big-bodied, this classic scotch ale features a smoky, complex malt flavour with touches of caramel, toffee, toasted nuts and a hit of alcohol for warmth.  Like drinking hot coffee on a summer day!
Tangerine Sour – Orange in colour with a tangerine flavor and aroma, this German sour beer with a tangerine twist is highly carbonated and very refreshing – sounds like summer in a glass.
Marzen Lager – An elegant malt flavour with a restrained hop bitterness to balance the malt. Notes of toffee, biscuit and bread crust start sweet but finish dry.
Our Signature Brews
Niagara Premium Lager – An award winning, thirst-quenching premium lager with a clean-drinking, medium bodied brew.
Honeymoon Peach Radler – It's almost Peach season in Niagara, but the recipe for our Honeymoon Peach Radler lets us enjoy the fresh picked flavour all year long. Experience its touch of ginger, and pleasant peach finish.
Beerdevil IPA – High hop aroma and caramel-like, toasted malt flavour. It's bold and bracing like the daredevils it honours.
Irish Red Ale – Our favourite redhead, Irish Red Ale is classically Irish. A prominent malt flavour is topped with strong caramel, biscuit and toffee highlights.
Visiting Niagara Falls? Stop in at the brewery at the corner of Falls Avenue & Clifton Hill.  Your table is waiting!