It's peach season in Niagara and conditions have created a bumper crop with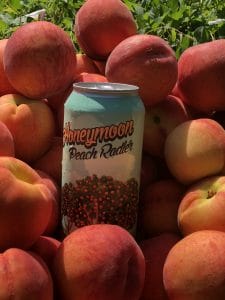 an abundance of sweet, juicy fruit! To showcase the best flavours in Niagara, we've incorporated bright peach freshness into our signature craft brew: Honeymoon Peach Radler.
Niagara Falls is known as the "Honeymoon Capital of the World" and our fruity radler, is a craft beer tribute to all of our newlywed visitors. With an airy malt sweetness, touch of ginger, and pleasant peach finish, you'll feel more in love with every sip.
Crisp and refreshing at 3.5% ALC and only 3 IBU, this sunny refreshment is the perfect craft beer. Pair it time spent on our patio under brilliant sunshine or starry nights and enjoy live entertainment during your visit!
Live Music Daily: 12:00pm-12:00am
Hoppy Hour: $4 Beer Specials – 3pm – 4pm & 7pm – 8pm