It's patio season and our outdoor seating opens Friday June 11.
If you are looking for a night out with friends, there is little better than delicious craft beer, and live music on a patio.
At Niagara Brewing Company, we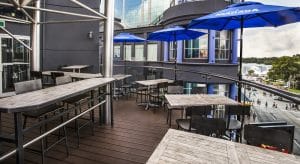 have two outdoor patios to enjoy. Our lower patio looks out towards the Clifton Hill tourist district, while our Upper patio reveals a view of Niagara Falls which is spectacularly illuminated at night.
Craft beer sessions fueled by our rotating taps of craft brews, and our light menu of items designed for sharing are an ideal way to celebrate the season.  Open late, the brewery hosts highly rated Niagara musicians daily, so grab a table on the patio, settle in for the evening and let the party start.
Lager and Radlers are perennial favourites for summer patio sessions day or night, and that includes our Niagara Premium Lager and Honeymoon Peach Radler.
Our Niagara Premium is an award winning lager is a medium bodied beer, that is clean and a thirst quencher at 4.5% alc and 20 IBU.
For a hint of sweetness our Honeymoon Peach Radler at 3.5% alc and just 3 IBU blends juicy peach with malt sweetness and a hint of ginger for the perfect summer beer.
Enjoy an evening in Niagara Falls at Niagara Brewing Company!