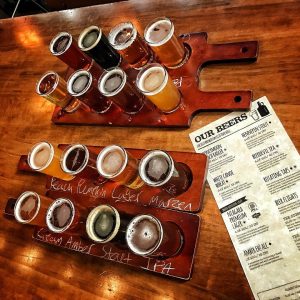 Craft beer isn't the only delicious thing we're serving up at Niagara Brewing Company these days. If you're planning on stopping by the brewery to get a taste of the signature and limited-edition beers that we currently have on tap, make sure to also check out our kitchen menu where you'll find awesome food that pairs perfectly with our beers and is great for sharing with friends. Here are some of the highlights of our current menu:
Warm Soft Pretzels
These pretzels will warm you up from the winter cold and are guaranteed to taste delicious with a pint of beer. You can choose between a seasoned rock salt pretzel with a special Beerdevil IPA-infused cheese sauce and a 3-cheese pretzel with a house-made marinara sauce.
Mushroom Chicken Melt Sandwich
This delicious sandwich combines breaded chicken, mushrooms, carmelized onions and sweet peppers with our Amber Eh! Aioli sauce to offer a warm and hearty dish that is great for lunch or dinner. It's also served with a 4-bean salad and red wine vinaigrette that adds a bit of fresh and local flair to the meal.
Artisan Cheese Board
The Niagara Region produces a wonderful variety of quality artisan cheeses, and this board offers a number of them alongside toasted walnuts, artisan crackers, dried fruit with a compote created from seasonal ingredients, and crispy naan. It offers a great snack that can be easily shared amongst a group and features quality ingredients that are both light and tasty.
Roasted Red Pepper & Eggplant Sandwich
Vegetable lovers will definitely enjoy this fresh pepper and eggplant sandwich which features basil with garlic and sage white bean spread, and a 4-bean salad with red wine vinaigrette. It's a great alternative to the meat-based dishes on the menu and will taste wonderful with one of our signature beers, like the Niagara Premium Lager.
These are just a few of the great food items that you can expect to find on the menu during your next visit to Niagara Brewing Company. And if you're planning on visiting with a group, make sure to check out our special group menu, which offers amazing table snacks, deluxe displays, party platters, and hearty platters.