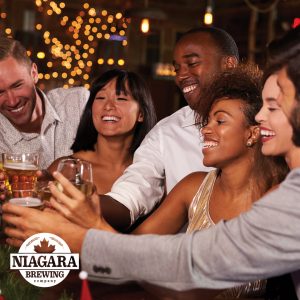 Put a fun twist on the traditional holiday party this year by hosting a one-of-a-kind event at Niagara Brewing Company.
We have everything you need to throw a laid back and fun holiday party in Niagara Falls. One of the best parts about hosting an event at our brewery is of course the craft beer. We currently have a number of delicious beers on our rotating taps like the Pumpkin Spiced Ale, Marzen lager, Honey Wheat beer, and Hennepin Stout, with other great brews on the way. And you can always get a taste of our four signature brews, the Niagara Premium Lager, Beerdevil IPA, Amber Eh? Ale, and Honeymoon Peach Radler.
But great craft beer isn't the only thing we're serving up at the brewery. Our kitchen offers a menu of amazing food items like warm soft pretzels, tortilla chips and guac, artisan cheese boards, charcuterie boards, homemade meatball sandwiches, cheese flatbread pizza, Niagara eggplant sandwiches, and more.
We also offer group tours and tastings that teach you about the art of making locally-brewed craft beer and the operations of Niagara's pub scene. And every tour finishes with a 20 oz. pint of beer so you'll have the chance to taste our best craft beers after learning about the process of making them.
Our brewery on Clifton Hill is situated right in the heart of Niagara Falls' tourist district and is just a short walk away from the incredible Niagara Falls. And with 3,000 square feet of space, an on-site beer and retail store, trendy atmosphere, locally-inspired food menu, and the chance to create specialty gifts like personalized beer cans for groups and events, it's the perfect place to host an unforgettable party during the upcoming holiday season.