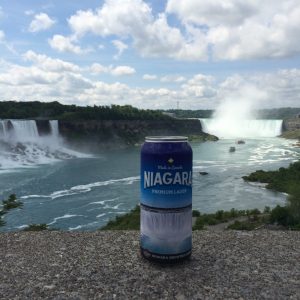 Our very own Niagara Premium Lager has won a medal at both the 2016 Canadian Brewing Awards and 2016 Ontario Brewing Awards and we couldn't be more thrilled. Our clean-drinking, medium-bodied lager took home the bronze medal in the North American Style Premium Lager category at the Canadian Brewing Awards and the silver medal in the Craft Lager category at the Ontario Brewing Awards.
Our Niagara Premium Lager is brewed in honour of the thundering Niagara Falls and it's tasty malt sweetness and cascade of citrus flavour makes it a must-try for all lager lovers. The delicious taste has been carefully crafted and honed by our brewmaster and his team, and we're thrilled that all of their hard work has been recognized with these two prestigious medals. The beers were judged based on aroma, appearance, flavour, mouth-feel, and overall impression with the top three brews in each category receiving medals.
Make sure to stop by our brewery on Clifton Hill to try the award-winning Niagara Premium Lager  while soaking up the sun on one of our outdoor patios, or stop by select Beer Stores to pick up some cans!