It's that time of year! Red and gold leaves are starting to add a colourful punch to our parks, once lush greenspaces begin to shed their cover, and a certain flavour dominates – nearly everything!  At Niagara Brewing Company that means a much-anticipated release of our Pumpkin Spice Ale!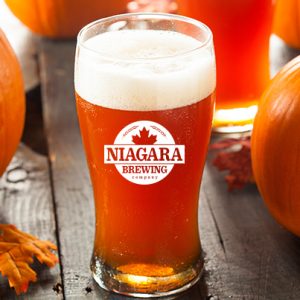 Modeled after a secret family pumpkin pie recipe passed through the generations, our Pumpkin Spice Ale is pie in a glass.  Aromas of the classic holiday spices (cinnamon, nutmeg, allspice) give way to a flavor that bursts with freshly roasted pumpkin, pie crust, spices, and a long finish that gives way to a hint of whipped cream at the end.  Its copper-orange colour and a rich, off-white head, even evoke a piece of pumpkin pie.
Pumpkin Spice Ale is the latest flavour to join the rotating taps at our Niagara Falls craft brewery, where every visit is a new experience. Our rotators star alongside our signature award-winning craft beers, and our kitchen menu of snacks and bites.
Stop in at the brewery at the corner of Clifton Hill & Falls Avenue for daily "hoppy hour" specials, and live music.  If you are in the Fallsview Tourist District, stop by our new Taproom located at Fallsview Casino.
Share your visit with us > tag us on Instagram @niagarabrewingcompany or Facebook @NiagaraBrewingCo