The two new beers to be added to our rotating taps provide diverse options in our Niagara Falls craft brewery.  Both in flavour profile and timing, they offer a pleasing balance between Fall and Winter and are worthy of a session of glad tidings and cheer.
Black Lager – Schwarzbier (translation –  "black beer")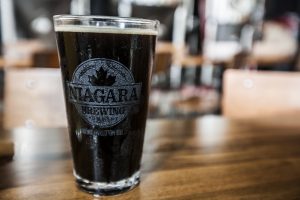 A dark lager hailing from Germany that has its origins in the middle ages.  Soft and mild in flavour despite its dark appearance, our Black Lager has a slight, malty flavour with no up-front bitterness. It features a medium body, is black, nearly opaque in color, and presents a bittersweet, chocolate flavor with hints of coffee or vanilla.  At 5.0 % ABV and  19 IBUs it is second in alcohol content of our rotating taps.
Marzen
In contrast to the darkness of our Black Lager, the Marzen is an amber/orange beer rich in maltiness.  It balances clean, hop bitterness, toasted bread or biscuit-like malt aroma and flavor.  Originating in Germany in the 1500's, "Marzen" meaning "March" was traditionally brewed in the spring with equal amounts of Pilsner, Vienna and Munich malts and lagered in cool caves during the summer.  4.7% ABV 22 IBUs.
With seasonal flavours on our rotating taps, there is a new craft beer in Niagara Falls to discover and enjoy during each visit to Niagara Brewing Company.  Gather with friends and toast the holiday season with craft beer, and kitchen eats.
Join us for hoppy hour specials, and live music! And if you are at Fallsview Casino Resort, stop by our new Taproom in the galleria!