Pilsner: by definition is a pale lager, light, clear in colour, crisp, medium body with a hoppy bite. Widely considered the most popular style of beer around the globe,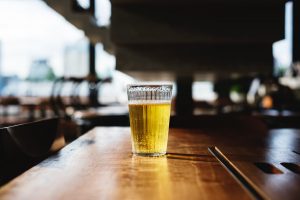 LCBO reports that close to 80% of the beer enjoyed worldwide is a pilsner.
While recipes vary, the version created at our Niagara Falls craft brewery is our newest featured release. The Niagara Pilsner shares the classic qualities of a pilsner.  Expect clean malt notes reminiscent of bread, light toast and mild honey backed by an elegant hop aroma and flavor.  Our Niagara Pilsner features a somewhat strong, clean bitterness stemming mainly from classic Saaz hop varieties. One of the four noble hops, Saaz lends a distinctive note and aroma to this craft beer.  At 4.5% alc. and 25 IBUs, our pilsner is pleasing and immensely drinkable.
Stop in at Niagara Brewing Company at the corner of Clifton Hill/Falls Avenue to try our new Niagara Pilsner. While you are here enjoy the ever-changing flavours on our rotating taps, enjoy live music and soak in the warmth on our patios as we toast the last long weekend of summer!
If you find yourself at Fallsview Casino, stop by our NEW Taproom in the Galleria!