St. Patrick's Day is just a day away, and what better way to celebrate this festive occasion than with live music and great beer at Niagara Brewing Company?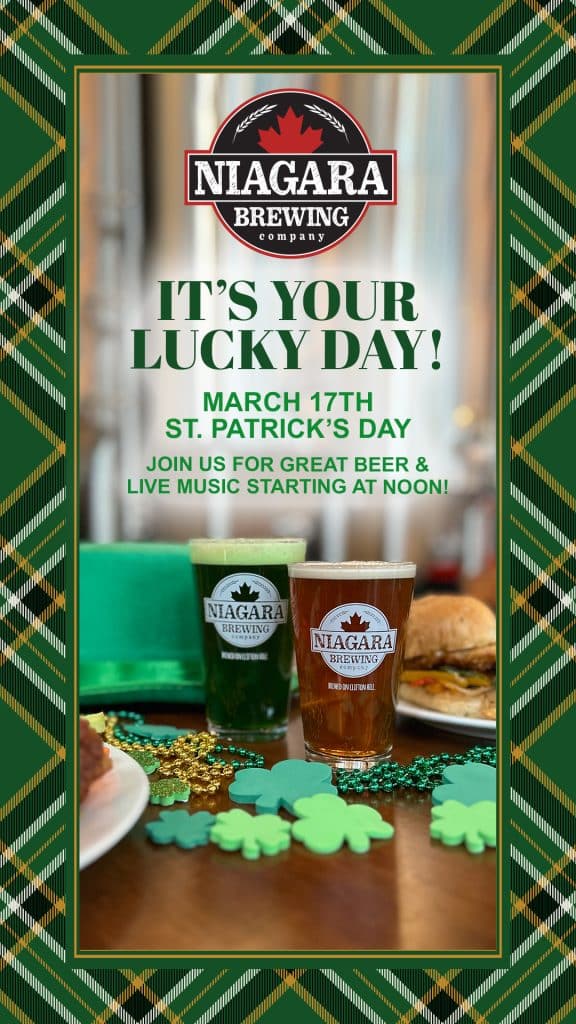 Join us on March 17th for a day of great music, delicious food, and amazing beer, as we celebrate the day everyone is Irish.
Our brewery, located in the heart of Niagara Falls, is the perfect place to gather with friends and family on St. Patrick's Day. We offer a wide range of award-winning beers, including our Irish Red Ale, which is the perfect brew to get you in the spirit. Our beer is brewed using only the finest ingredients, and we take great pride in creating high-quality, flavorful beers that are sure to please any palate. Enjoy a pour from our rotating taps featuring seasonal flavours.
But the celebrations don't stop with our delicious beer. We'll also have live music starting at noon, featuring some of the best local musicians. Whether you prefer traditional Irish tunes or modern covers, you're sure to enjoy the music and the lively atmosphere at Niagara Brewing Company.
To make the most of your St. Patrick's Day celebrations, be sure to arrive early and grab a table. We expect the brewery to be bustling with excitement, so it's best to arrive early and claim your spot. Our friendly staff will be on hand to make sure you have a great time and enjoy our fantastic beer and food offerings.
So mark your calendars and get ready to celebrate St. Patrick's Day at Niagara Brewing Company. We can't wait to raise a glass with you and toast to the luck of the Irish!