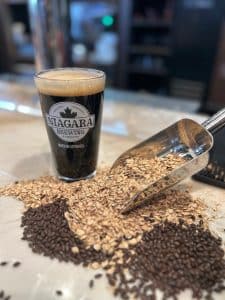 We have some exciting news to share with all of our beer-loving friends!  The newest addition to the Niagara Falls craft beer lineup is here, and it is Oatmeal Stout!
Crafted with the finest ingredients, our Oatmeal Stout is a very cinematic black beer that pours with a beautifully contrasting tan head and is now available on our rotating taps. Oatmeal is the ideal base to balance out mildly bitter flavours. From the first sip, you will notice the rich flavors of dark chocolate and coffee, which are complemented by a hint of oak-smoked malt. This beer has a smooth mouthfeel, thanks to the addition of oatmeal, which also adds a subtle sweetness to the finish.
With an alcohol content of 4.6% and 32 IBUs, our Oatmeal Stout is perfect for those who enjoy a mildly bitter beer that is full of flavor. Whether you are a seasoned craft beer enthusiast or new to the world of craft beer, our Oatmeal Stout is sure to impress.
The brewmaster at our Niagara Falls brewery has created a beer that is not only delicious but also unique. We are confident that our Oatmeal Stout will quickly become a fan favorite, so be sure to visit soon and try it before the kegs run dry.
Stop in at Niagara Brewing Company and try our new Oatmeal Stout craft beer. While you are here enjoy live music and delicious bites from our kitchen menu.
We can't wait for you to experience the rich flavors of this new addition. Cheers!