Hold onto Fall with our limited edition small batch Pumpkin Spice Ale.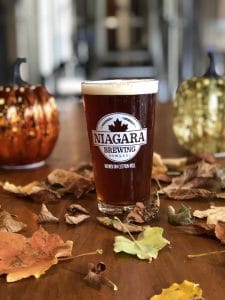 Next to your coziest sweater, this might just be your favourite thing about Fall. This new brew has a rich and delicious pumpkin flavour enhanced by a spicy aroma with notes of nutmeg, cinnamon, allspice, pie crust and hint of whipped cream at the end.
A rich copper-orange colour that is pumpkin pie in a glass, and is 5.4% ALC / 6 IBU
Stop in at the brewery at the corner of Clifton Hill and Falls Avenue to pair this delicious new beer with a warm pretzel, or a meat & cheese combo board perfect for sharing, and enjoy live music from some of Niagara's most talented musicians.
If you love pumpkin spice and all things nice, share with friends and pick up a growler to take home!