NIAGARA FALLS, ON, June 8, 2016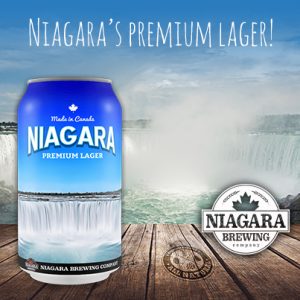 Niagara Brewing Company in Niagara Falls, Ontario has recently been awarded medals at both the 2016 Canadian Brewing Awards and 2016 Ontario Brewing Awards. The brewery's Niagara Premium Lager took home the bronze medal in the North American Style Premium Lager category at the 14th annual Canadian Brewing Awards and the silver medal in the Craft Lager category at the Ontario Brewing Awards.
Niagara Brewing Company's Niagara Premium Lager is a beer that is crafted in honour of the thundering Niagara Falls, which are located just steps away from where it is brewed. It is a medium-bodied lager  with 4.5% alc. and 20 IBU, distinguished by a malt sweetness and cascade of citrus flavours.
"We're thrilled to have taken home awards at this year's Canadian Brewing Awards and Ontario Brewing Awards and are so pleased to have our Niagara Premium Lager recognized for its outstanding quality and taste. Our brewmaster and his team have worked tirelessly to create a clean-drinking beer with a truly unique taste, and receiving these medals confirms that they've accomplished just that," says Sarah Vazquez, Vice President of Business Development and Marketing for Niagara Brewing Company.
The 2016 Canadian Brewing Awards were held in Vancouver, British Columbia and are the premiere competition for recognizing the very best in brewing from across the country, while the 2016 Ontario Brewing Awards were held in Toronto, Ontario and celebrate the best brews and breweries from across the province. The beers are judged based on their aroma, appearance, flavour, mouth-feel, and overall impression with the top three brews in each category receiving medals.
For more information on Niagara Brewing Company and the award-winning Niagara Premium Lager, please visit www.niagarabrewingcompany.com.
About Niagara Brewing Company:
Niagara Brewing Company is a craft brewery established in 2015 and located in Niagara Falls, Ontario on the 20-acre Falls Avenue Resort. The brewery offers a number of signature and seasonal brews that showcase local ingredients and celebrate Canada's rich brewing heritage.